ARCHITECTE dplg
ensa paris la villette
architectural association – london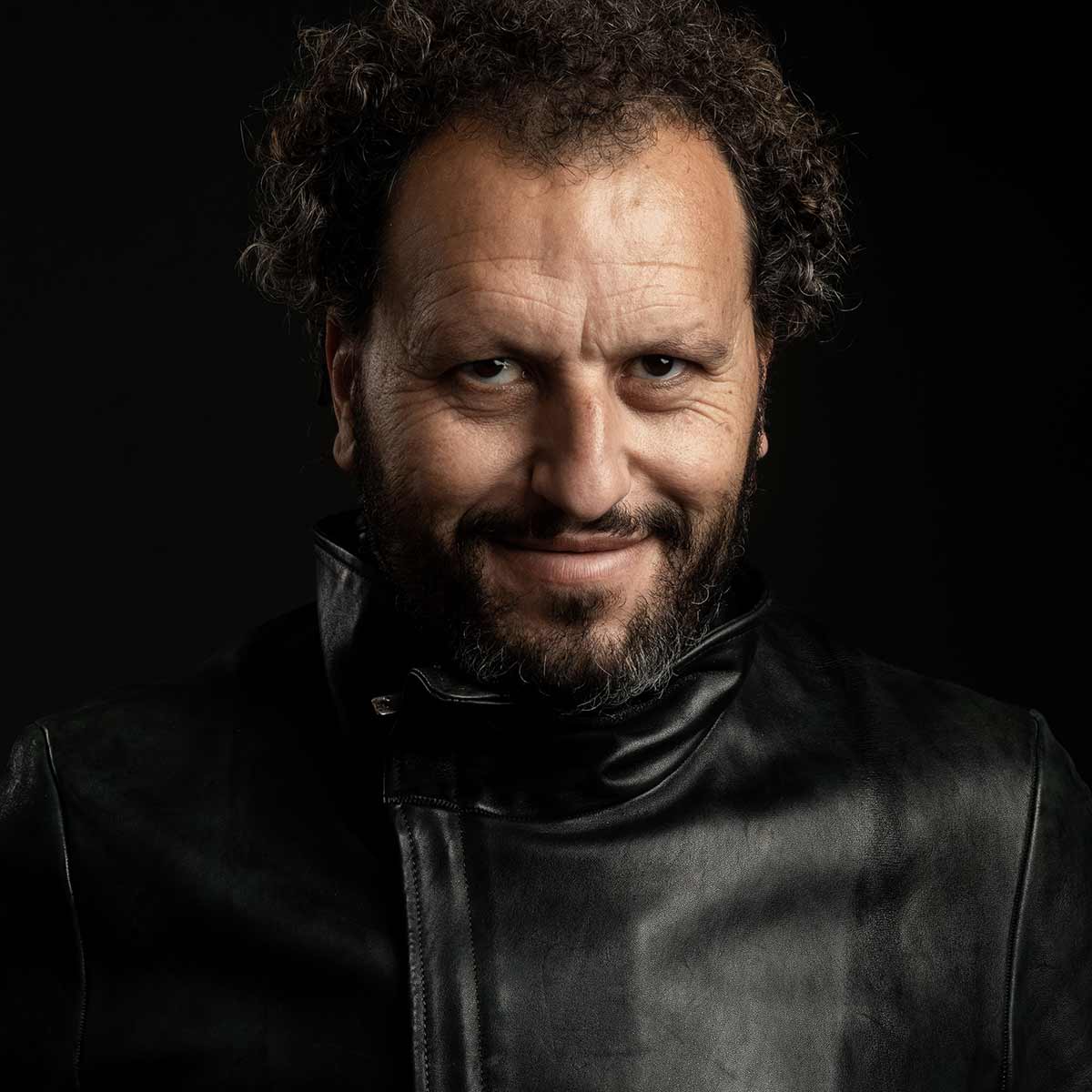 A SENSITIVE, HOLISTIC AND ADAPTED APPROACH
The first step is to walk around and observe the new building site's surroundings or the future renovation. This impatial stroll aims to freely collect a vast array of info, e.g. historical, sociological, urbanistic, architectural, daily life ones. They all are necessary elements of Farid Azib's conception, in its broadest acceptance, of the «spirit of the place» and of its physical and poetic resonances. This quest is measured against a programme drawn up by the clients, the broad outlines of which he keeps in mind, without deliberately going into detail, so as not to reduce and narrow the momentary sketch of the work due to strictly functional imperatives… 
THE SITE DOES ENCOURAGE HARMONY
As a receptive and strolling architect, Farid Azib assesses landscapes and perspectives, allowing himself to be questioned by the hallmark of the relief, in a sensitive and open approach, without prejudices. He often quotes this sentence, taken from Leonardo da Vinci's notebooks, to talk about his approach: «Proportion is to be found not only in measures and numbers, but also in sounds, weights, times, places and in all forms of energy». 
«ProPortion is to be found not only in measures and numbers, but also in sounds, weights, times, Places and in all forms of energy.»
 Little by little, thanks to the capture of these signs, are the site's paradoxes and logics uncovered, its contradictions and necessities – in terms of levels, circulation, orientations. At the same time a history is being put in place, like an exquisite corpse that is about to bring a general meaning to the architectural offer, a global vision in accordance with its environment. A work of objectification and formalisation is thus born, from this array of impressions and information, from heritage-anchored and assumed provisional truths, rooted in the reality of the facilities, the nature of the region and the emotions of the visit. This preliminary survey is then completed by a more in-depth and now oriented documentary research. It contradicts or confirms and nourishes the first inspirations. 
A sort of «non know-how», in the sense that Farid Azib starts with in situ and in vivo intuition, without any preconceived concept, without any exported recipe, without any ready-made formula that would subjugate, distort and de-individualise the project.
To quote him: «Architecture always appears in a context, it represents a story that respects all aspects, that must not be imposed; it has no written in advance script, but for the fact that man is at the centre.
«ARCHITECTURE ALWAYS APPEARS IN A CONTEXT, IT REPRESENTS A STORY THAT RESPECTS ALL ASPECTS, THAT MUST NOT BE IMPOSED; IT HAS NO WRITTEN IN ADVANCE SCRIPT, BUT FOR THE FACT THAT MAN IS AT THE CENTRE.»
LIVE TOGETHER AND FUNCTIONALITIES
Farid Azib thus subjectively delves into a geography, a regional history, a sociology, a range of materials, a colour chart. He immerses himself in the site that encourages him to make certain configurations by telling him a particular story. But it is not the pragmatic prerogatives and duties of his profession, nor the pursuit of a personal creative ambition that motivates him. It is above all as a citizen and user, aware of the need to live together and of the indispensable reconstruction of new sociabilities that he commits himself through this systematic realization, this assumed random method. A method in charge of the well-being, of the collective interest and of a community of destinies. On the basis of this initial device, as the project develops, the contingencies and multiple functionalities necessary for the building do interact, articulate and integrate naturally. The surfaces are individualised in a whole, are structured and organised in sequences, in thresholds, step by step, respecting the future activities, the freedom of passing glances, and the different states that visitors are likely to experience – always with the desire to give them a feeling of pleasure and jubilation. In this context, particular attention is paid to natural light sources. Similarly, the mastery of detail is a structuring requirement, the balance being found in the relationship between large and small scales. Here, the principle of the different levels, which are built according to the requirements of circulation and movement of users, is of utmost importance. Equally so is the enhancement of the functionality of the volumes, each space in relation with others has an identical value and contributes to the whole. Another remarkable point that characterises Farid Azib's designs is his attachment to handmade craftsmanship, which leads him, in his respective works, to establish fruitful dialogues as much with engineers or researchers as with craftsmen, masons, carpenters, etc. In the wake of this preoccupation comes a demand for quality materials and a predilection for local, bio-sourced resources.
A humanistic and holistic conception for an architecture that is both candid and knowledgeable, raw and subtle, elementary and complex, archaic and modern, always elegant, personal and adapted all at the same time, designed for the well-being of the user and the possible smooth cohabitation between individuals. An architecture that owns Frank Lloyd Wright words: «I declare that the time has come for the architecture to acknowledge its own nature, to understand that it derives from life.»
FROM THE MOUNTAINS OF KABYLIA TO THE SCHOOL OF ARCHITECTURE
Farid Azib was born in 1970 in Tapount, a remote village in the mountains of the Algerian Little Kabelia. He grew up between the walls of the only room with different levels of a modest traditional Berber house (an Axxam) made of carved stone, on the edge of the immense Aksaout forest, one of the most important forest massifs in North Africa. In winter the climatic conditions are very harsh in the region, with gusty cold winds, snow and heavy rain. Most of the men in the village had been going to France for several generations to support their families. Farid Azib remembers: «my grandfather settled in Paris in the 1930s, then he was mobilised and interned in Germany during the Second World War, while my father emigrated at the age of 13 to work in a factory in Grenoble. The eldest of the siblings surrounded by the deep and structuring love of his mother and grandmother, Farid Azib grew up in a cocooned and traditional environment, made up mainly of women and children.
Far from modernity and its manufactured objects, the living conditions of this happy and carefree childhood, close to nature, are basic. No water or electricity – heating is provided by the main fireplace (the kanoun dug into the ground not far from the front door), and thanks to the pets that live in the same space under a mezzanine. Farid went to school at six years of age and every day, «accompanied by my grandmother who encouraged my studies, walked up and down circa fifteen kilometres to reach my school». He happened to be a good pupil. His first «architectural memory» dates from this period, when his father decided, during his only annual visit, to build an extension: before his eyes, on the clay floor, the basic plan was drawn with the tip of a stick. An enigma then arises for him: what do these lines represent? How do they relate to what he knows about a house? From then on, at the age of seven and with an already developed understanding of volumes, he followed in his own way, in detail and with a great sense of responsibility, the different stages of the construction site, which took place over nearly three years…
For a long time, his father had planned to bring his family to France, which became possible a few years later thanks to the family reunification policy. The young Farid Azib, aged ten, learns of his imminent departure for Paris, where a flat in the Stalingrad district, located above his father's café, awaits him. In a matter of days, his life is turned upside down. With his younger brother, they are far from mastering the French language, and the headmaster of his new school shouts out to them, after the first evaluation tests: «But what are we going to do with these children? Farid Azib fell back in level, persevered, met supportive teachers, and caught up until he passed his baccalaureate. In the meantime, an important encounter opened the doors to a new socio-cultural universe: «By meeting Daniel Mesguich's son, the theatre man, I discovered a world that was unknown to me until then, a world that attracted me: that of books, great authors and entertainment. Above all, I discovered something new: the possibility of individual emancipation, outside the group and the family. Building one's own identity through creation becomes possible». During a two-year management course, he is bored and does not see himself in this branch. An observant teacher then suggests to him to steer away from it: «But what would you like to do? The answer was immediate, determined, spontaneous and thoughtless, with no real reason or preconceived idea: Architecture!» Like a kind of impossible evidence, the nature of which still questions him today. 
ACADEMIC AND PROFESSIONAL BACKGROUND
Farid Azib joined the Paris-La Villette school: he had to learn everything. And it is in an experimental, non-academic and generalist teaching environment that he discovers the evidence of his vocation. He had always practised drawing in a self-taught manner with an innate understanding of volumes (we do notice a predilection, in his younger years, for football stadia!) is now blossoming in this field. He fulfils himself through the study of sociology, urban planning, philosophy, art history and literature. In his fourth year, he learned by chance that he could enrol in the famous London institution of the Architectural Association. The only place available went to his then girlfriend. Farid Azib went to school in Portsmouth but spent his days 'clandestinely' at the Architectural Association. This is the oldest independent architectural college in the UK. It attracts students from over fifty different countries and offers specialist courses in landscape design, urban housing, energy and the environment, history and theory, design studies… Its alumni include such famous names as Zaha Hadid, Rem Koolhaas and Richard Rogers. By frequenting the school and its architectural masters, Farid Azib was spotted and had the unexpected opportunity to officially join. This training opened up new perspectives for his personal creation. To conceive this discipline as an original and sensitive exploration fascinates him: «It was a revelation, I delved during this year of Post Graduate into a world of incredible research, penetrated by decisive teachings, such as those given by Hugo Hinsley, Jorge Fiori and, above all, by my tutor Takeo Muraji – whose very oriental conception of space is based on the intuitive, the bodily, the sensory, movement and the perception of time. I learned a sense of measure, humility, and the pitfalls of postures.» 
«IT WAS A REVELATION, I DELVED DURING THIS YEAR OF POST GRADUATE INTO A WORLD OF INCREDIBLE RESEARCH, PENETRATED BY DECISIVE TEACHINGS, SUCH AS THOSE GIVEN BY HUGO HINSLEY, JORGE FIORI AND, ABOVE ALL, BY MY TUTOR TAKEO MURAJI – WHOSE VERY ORIENTAL CONCEPTION OF SPACE IS BASED ON THE INTUITIVE, THE BODILY, THE SENSORY, MOVEMENT AND THE PERCEPTION OF TIME. I LEARNED A SENSE OF MEASURE, HUMILITY, AND THE PITFALLS OF POSTURES»
Back in France, he obtained his diploma with his new methods, but the time had not yet come to apply them, as his personal and family situation was still precarious and required stability. After a brief stint with CR architecture and various assignments, he joined Alain Derbesse's studio in 2000, enjoying a certain freedom of action for major projects. While maintaining his status as a free electron, he worked for seven years in a world of purchasers, while continuing to carry out more modest projects in London. Tired of evolving in an environment that did not correspond to his deepest aspirations, and in search of independence and intellectual emancipation, he decided to create his first studio. As a tribute, he gave it the name of his recently deceased mother: Randja. The projects followed one another with success, public buildings such as theatres, cinemas, media libraries and multi-purpose spaces, but also sports and school facilities (see the «major references» section). During this period, Farid Azib asserted the singularity of his architectural writing, while respecting the specificity of each project, which was expressed through numerous professional publications and recognition by his peers. His close relationship with the architect Roland Castro led to collaborations abroad, such as an urban restructuring in Medellin, Colombia, in 2014. While pursuing a programme mainly oriented towards cultural buildings, the studio has also been designing housing in recent times. A period of turbulence – mainly due to internal collaboration difficulties – leads to the creation of an studio with new skills, extended objectives, and a renewed sense of purpose: FARIDAZIB Architects is thus born in 2021. In the meantime, the highly acclaimed construction of the Saint-Lô Technopôle, delivered in 2020, which earned him a nomination for the Équerre d'argent and attracted interest from outside France, marked a remarkable turning point in his career. 
FARIDAZIB Architect is a free and open structure for inventions, strongly characterized by its creative point of view, while projecting a wide range of disciplines, such as design works adapted to the conceptions, interior architecture, environmental research and technological innovations. The overwhelming ambition is to evolve and reach an international level. So as to tackle broader urban organisation issues, to carry out large-scale projects and to continue to assert an architectural identity that is now taking on a new dimension.